Nichole Sather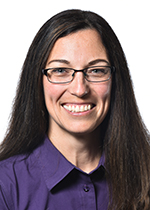 Marine Sciences Laboratory
Pacific Northwest National Laboratory
1529 West Sequim Bay Road
Sequim, Washington 98382
Send Email
Biography
Nikki Sather is a research scientists and technical team lead for the Coastal Ecosystems and Technology group at the Marine Sciences Laboratory. Nikki's work includes research in wetland and coastal habitats, studies of fish ecology in estuaries, as well as NEPA reviews and preparation of environmental impact statements.
Research Interests
Biological response of estuarine habitat restoration
Food web dynamics in aquatic habitats
Environmental and biological interactions with marine renewable energy development
Education and Credentials
2001 B.S. Environmental Science. Western Washington University. Bellingham, WA
2009 M.S. Fisheries Science. Oregon State University. Corvallis, OR, 97331
Affiliations and Professional Service
American Fisheries Society
Awards and Recognitions
Of the Year Award in recognition of outstanding efforts for the 2016 EED Publication Award 2016
For Annex IV 2016 State of the Science Report: Environmental Effects of Marine Renewable Energy Development Around the World
Of the Year Award in recognition of outstanding efforts for 2016 Project manager of the 2016
Year for several strategic Marine Sciences Laboratory's projects for DOE EERE and the USACE
Outstanding Performance Award for outstanding contribution for regional outreach 2014
for the Oncor Geodatabase for the Columbia Estuary Ecosystem Restoration Program: Handbook of Data Reduction Procedures, Workbooks, and Exchange Templates
Outstanding Performance Team Award in recognition of dedication to delivering an 2014
environmental impact statement to the U.S. Army Corps of Engineers in a rapidly evolving technical development environment with a critically short timeframe.
Of The Year Award in recognition for outstanding efforts for the 2011 EED Project 2011
Team Award for the Nuclear Regulatory New Reactor Licensing Program project
Outstanding Performance Award for field sampling and analysis for Bonneville Power 2010
Administration and US Army Corp of Engineers. Her research has contributed to the reputation of the Marine Science Lab as a source of fisheries science expertise on lower Columbia River and estuary.
PNNL Publications
2015
Johnson G.E., G.R. Ploskey, N.K. Sather, and D.J. Teel. 2015. "Residence Times of Juvenile Salmon and Steelhead in Off-Channel Tidal Freshwater Habitats, Columbia River, USA." Canadian Journal of Fisheries and Aquatic Sciences 72, no. 5:684-696. PNNL-SA-101024. doi:10.1139/cjfas-2014-0085
2014
Johnson G.E., N.K. Sather, J.R. Skalski, and D. Teel. 2014. "Application of Diversity Indices to Quantify Early Life-History Diversity for Chinook Salmon." Ecological Indicators 38. PNNL-SA-93739. doi:10.1016/j.ecolind.2013.11.005
2013
2012
Sather N.K., A. Storch, G.E. Johnson, D.J. Teel, J.R. Skalski, A.J. Bryson, and R.M. Kaufmann, et al. 2012. Multi-Scale Action Effectiveness Research in the Lower Columbia River and Estuary, 2011 - FINAL ANNUAL REPORT. PNNL-21194 FINAL. Richland, WA: Pacific Northwest National Laboratory. Multi-Scale Action Effectiveness Research in the Lower Columbia River and Estuary, 2011 - FINAL ANNUAL REPORT
2011
Diefenderfer H.L., G.E. Johnson, N.K. Sather, J.R. Skalski, E.M. Dawley, A.M. Coleman, and K.G. Ostrand, et al. 2011. Evaluation of Life History Diversity, Habitat Connectivity, and Survival Benefits Associated with Habitat Restoration Actions in the Lower Columbia River and Estuary, Annual Report 2010. PNNL-20295 Final. Richland, WA: Pacific Northwest National Laboratory. Evaluation of Life History Diversity, Habitat Connectivity, and Survival Benefits Associated with Habitat Restoration Actions in the Lower Columbia River and Estuary, Annual Report 2010
Johnson G.E., A. Storch, J.R. Skalski, A.J. Bryson, C. Mallette, A.B. Borde, and E. Van Dyke, et al. 2011. Ecology of Juvenile Salmon in Shallow Tidal Freshwater Habitats of the Lower Columbia River, 2007-2010. PNNL-20083. Richland, WA: Pacific Northwest National Laboratory. Ecology of Juvenile Salmon in Shallow Tidal Freshwater Habitats of the Lower Columbia River, 2007-2010
2010
Diefenderfer H.L., G.E. Johnson, N.K. Sather, J.R. Skalski, E.M. Dawley, and A.M. Coleman. 2010. Evaluation of Life History Diversity, Habitat Connectivity, and Survival Benefits Associated with Habitat Restoration Actions in the Lower Columbia River and Estuary, Annual Report 2009. PNNL-19410. Richland, WA: Pacific Northwest National Laboratory. Evaluation of Life History Diversity, Habitat Connectivity, and Survival Benefits Associated with Habitat Restoration Actions in the Lower Columbia River and Estuary, Annual Report 2009
Woodruff D.L., C. Judd, R.M. Thom, N.K. Sather, and R.M. Kaufmann. 2010. Fifth Annual Report: 2008 Pre-Construction Eelgrass Monitoring and Propagation for King County Outfall Mitigation. PNNL-15678-5. Richland, WA: Pacific Northwest National Laboratory. Fifth Annual Report: 2008 Pre-Construction Eelgrass Monitoring and Propagation for King County Outfall Mitigation
2009
Diefenderfer H.L., K.L. Sobocinski, R.M. Thom, C.W. May, A.B. Borde, S.L. Southard, and J. Vavrinec, et al. 2009. "Multiscale Analysis of Restoration Priorities for Marine Shoreline Planning." Environmental Management 44, no. 4:712-731. PNWD-SA-8063. doi:10.1007/s00267-009-9298-4
Johnson G.E., M.C. Richmond, J.B. Hedgepeth, G.R. Ploskey, M.G. Anderson, Z. Deng, and F. Khan, et al. 2009. Smolt Responses to Hydrodynamic Conditions in Forebay Flow Nets of Surface Flow Outlets, 2007. PNNL-17387. Richland, WA: Pacific Northwest National Laboratory. Smolt Responses to Hydrodynamic Conditions in Forebay Flow Nets of Surface Flow Outlets, 2007
Sather N.K., G.E. Johnson, A. Storch, D. Teel, J.R. Skalski, T.A. Jones, and E.M. Dawley, et al. 2009. Ecology of Juvenile Salmon in Shallow Tidal Freshwater Habitats in the Vicinity of the Sandy River Delta, Lower Columbia River, 2008. PNNL-18450. Richland, WA: Pacific Northwest National Laboratory. Ecology of Juvenile Salmon in Shallow Tidal Freshwater Habitats in the Vicinity of the Sandy River Delta, Lower Columbia River, 2008
2008
Sobocinski K.L., G.E. Johnson, N.K. Sather, A. Storch, T.A. Jones, C. Mallette, and E.M. Dawley, et al. 2008. Ecology of Juvenile Salmonids in Shallow Tidal Freshwater Habitats in the Vicinity of the Sandy River Delta, Lower Columbia River, 2007. PNNL-17395. Richland, WA: Pacific Northwest National Laboratory. Ecology of Juvenile Salmonids in Shallow Tidal Freshwater Habitats in the Vicinity of the Sandy River Delta, Lower Columbia River, 2007