Nancy Kohn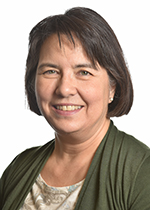 Marine Sciences Laboratory
Pacific Northwest National Laboratory
1529 West Sequim Bay Road
Sequim, Washington 98382
Send Email
Biography
Ms. Kohn is a senior scientist in the Coastal Research Group at PNNL's Marine Sciences Laboratory in Sequim, Washington. Most recently, Ms. Kohn has been involved in both the technical and management aspects of large, multidisciplinary environmental reviews for new nuclear power plants and a geologic carbon sequestration project. As deputy team leader for the Nuclear Regulatory Commission's environmental review for two new reactors at the V. C. Summer site in South Carolina, Ms. Kohn led a team of thirteen PNNL subject matter experts through development of an environmental impact statement from the early scoping stages though publication of draft and final EIS documents, culminating in presenting the results of the review at a hearing before the Nuclear Regulatory Commission. Her technical contributions to these environmental reviews are in the area of water resources and aquatic ecology impacts; she also participates in NRC program-level teams to facilitate comment-response, reference management, and publication processes. Ms. Kohn's research experience includes water and sediment quality assessments, primarily in marine and estuarine environments (sediment sampling and characterization, benthic and water-column toxicology and benthic bioaccumulation). Ms. Kohn has been involved in a number of sediment evaluation and risk assessments for various ports and harbors and several coastal Superfund sites. Ms. Kohn has added research experience in marine resources using a dredge impact model for estimating loss of recruits to the Dungeness crab population and commercial fishery, estimating entrainment of fish by hopper dredges, reporting hydroacoustic survey results and assisting with eelgrass surveys. She has also helped investigate applying remote sensing techniques and tools to estuarine water quality and a combined ecological/physical conceptual model basis for evaluation of coastal security.
Research Interests
Environmental Impacts of Constructing and Operating New Nuclear Reactors: Since 2008, Ms. Kohn has been involved in the multidisciplinary New Reactor Licensing Review program for the Nuclear Regulatory Commission. She has contributed to Environmental Impact Statements for six new reactor projects, primarily in the areas of water use, water quality, and aquatic resource impacts. She also characterizes the various nuclear plant structures and support facilities, and the activities required to build and operate them, to identify environmental interfaces where impacts would occur. In addition to technical contributions to new reactor environmental reviews, Ms. Kohn is involved in management (as deputy team lead for the V.C. Summer review) and infrastructure enhancements for the New Reactor Licensing Review program.
Impact of Dredging Operations at the Mouth of the Columbia River: Ms. Kohn participated in a number of studies for the U.S. Army Corps of Engineers, Portland District, to assess various impacts of dredging and disposal on aquatic resources. Key studies were: estimation of losses to the Dungeness crab fishery from dredge entrainment, estimating entrainment of coho salmon by dredges, effects of dredged material disposal on Dungeness crab and razor clams.
Puget Sound Shipyard and Intermediate Maintenance Facility Project Environmental Reinvestment (ENVVEST): In support of the Navy's ENVVEST program, Ms. Kohn managed a series of studies to verify the extent of sediment contamination in the waterways near the Puget Sound Naval Shipyard in Bremerton, Washington. The objectives of the study were to determine whether and how much sediment metal concentrations had changed since cleanup and source control implementation, and to support large-scale contaminant transport model development.
SWDIV NAVFAC Sediment Work Group (SWG): Ms. Kohn was part of a team that provided technical support to the Navy for evaluating offshore sediments at a number of San Francisco Bay area facilities. The SWG was responsible for summarizing existing data, conducting ecological and human health risk assessments, and evaluating remedial alternatives for contaminated sediment. Ms. Kohn was involved in all aspects of the SWG work, but her primary responsibilities were as field manager for studies taking place at the Hunters Point Shipyard and Alameda Point facilities, and providing input to ecological risk assessments.
Pier 23 (Commencement Bay) Remedial Investigation: Ms. Kohn designed the sampling and analysis strategy for site characterization and baseline ecological risk assessment at this pier that is part of the Commencement Bay Nearshore/Tideflats Superfund site. The project involved field sampling of sediment, analytical chemistry, and bioassays in support of the site characterization and baseline ecological risk assessment.
Port of Oakland 50-ft Harbor Deepening Project: Ms. Kohn designed the sampling and analysis strategy for this large dredged material evaluation, was co-leader for field activities and sample preparation, and managed the analytical chemistry and bioassay tasks.
Remedial Investigation and Ecological Risk Assessment of the McCormick & Baxter Superfund Site, Stockton, CA: Ms. Kohn planned the sampling efforts for sediment and surface-water characterization and ecological risk assessment. She took over management of the project after 1 year, and was responsible for the final remedial investigation and ecological risk assessment reports.
United Heckathorn Remedial Investigation and Remedial Oversignt: Ms. Kohn was a major contributor to the sampling and analysis plan, and was responsible for the sediment sampling task. She also assisted with sample preparation and biological testing. Ms. Kohn later provided oversight for the U.S. Environmental Protection Agency during the sediment remediation at the Heckathorn Superfund Site, Richmond, California, in 1996 -1997.
Dredged Material Evaluations for New England and Atlantic Region USACE Districts). Ms. Kohn served as Project Manager for acute toxicity and bioaccumulation testing and reporting for numerous projects for the US Army Corps of Engineers, New England and Charleston Districts. Testing was typically conducted to determine the suitability of dredged material for open-water disposal.
Ammonia Toxicity Research: Ms. Kohn conducted experiments to determine the sensitivity of four amphipod species to ammonia. This research was critical in development of protocols for dealing with ammonia in sediment toxicity tests.
New York/New Jersey Federal Projects, New York Reference Site Evaluation: Ms. Kohn has assisted with the laboratory and field efforts on several phases of these projects for the New York District of the U. S. Army Corps of Engineers. These projects involve chemical characterization and biological testing of dredged material from New York and New Jersey waterways as well as sediment from existing and proposed reference sites.
Sediment Evaluations of Navigational Channels and Port Berthing Facilities Throughout San Francisco Bay: Ms. Kohn managed a number of large projects for the U.S. Army Corps of Engineers, San Francisco District and the Ports of Oakland and Richmond. Ms. Kohn was responsible for planning and leading field sampling efforts, coordinating field sampling with laboratory testing schedules, managing sediment sample preparation tasks and laboratory bioassays, and finally, data analysis and report writing.
Education and Credentials
B.S., Freshwater Studies, Western Washington University, 1988
Affiliations and Professional Service
Society of Environmental Toxicology and Chemistry
Awards and Recognitions
Outstanding Performance Award from PNNL Energy and Environment Directorate for services as deputy team lead for the NRC V.C. Summer Environmental Review
Outstanding Performance Award from PNNL Energy and Environment Directorate for contributions to developing a new reference management process for NRC New Reactor Licensing
PNNL Publications
2017
Coles G.A., A.C. Dalton, K.M. Branch, R. Prasad, N.P. Kohn, and A.C. Bittner. 2017. "Framework for Evaluating the Impact of Environmental Conditions on Manual Actions." In Advances in Human Factors in Energy: Oil, Gas, Nuclear and Electric Power Industries: Proceedings of the AHFE 2016 International Conference on Human Factors in Energy: Oil, Gas, Nuclear and Electric Power Industries, July 27-31, 2016, Orlando, Florida, edited by SM Cetiner, P Fechtelkotter and M Legatt, 495, 157-169. Cham:Springer International Publishing. PNNL-SA-116565. doi:10.1007/978-3-319-41950-3_14
2008
Hibler L.F., A.R. Maxwell, L.M. Miller, N.P. Kohn, D.L. Woodruff, M. Montes, and M.A. Moline. 2008. "Improved fine-scale transport model performance using AUV and HSI feedback in a tidally dominated system." Journal of Geophysical Research. C. (Oceans) 113. PNNL-SA-58167. doi:10.1029/2008JC004739
2007
2006
Kohn N.P., J.M. Brandenberger, L.A. Niewolny, and R.K. Johnston. 2006. Organics Verification Study for Sinclair and Dyes Inlets, Washington. PNNL-16070. Richland, WA: Pacific Northwest National Laboratory. Organics Verification Study for Sinclair and Dyes Inlets, Washington
Pearson W.H., M.C. Miller, G.D. Williams, N.P. Kohn, and J.R. Skalski. 2006. Preliminary Assessment of Potential Impacts to Dungeness Crabs from Disposal of Dredged Materials from the Columbia River. PNNL-15477. Richland, WA: Pacific Northwest National Laboratory. Preliminary Assessment of Potential Impacts to Dungeness Crabs from Disposal of Dredged Materials from the Columbia River
Pearson W.H., N.P. Kohn, and J.R. Skalski. 2006. Entrainment of Dungeness Crab in the Desdemona Shoals Reach of the Lower Columbia River Navigation Channel. PNNL-16139. Richland, WA: Pacific Northwest National Laboratory. Entrainment of Dungeness Crab in the Desdemona Shoals Reach of the Lower Columbia River Navigation Channel
2005
2004
Kohn N.P., and N.R. Evans. 2004. Year 6 Post-Remediation Biomonitoring and Phase II Source Investigation at the United Heckathorn Superfund Site, Richmond, California. PNNL-14596. Richland, WA: Pacific Northwest National Laboratory. Year 6 Post-Remediation Biomonitoring and Phase II Source Investigation at the United Heckathorn Superfund Site, Richmond, California
Kohn N.P., M.C. Miller, J.M. Brandenberger, and R.K. Johnston. 2004. Metals Verficiation Study for Sinclair and Dyes Inlets,Washington. PNNL-14872. Richland, WA: Pacific Northwest National Laboratory. Metals Verficiation Study for Sinclair and Dyes Inlets,Washington
2002
Kohn N.P., and N.R. Evans. 2002. Phase I Source Investigation, Heckathorn Superfund Site, Richmond, California. PNNL-14088. Richland, WA: Pacific Northwest National Laboratory. Phase I Source Investigation, Heckathorn Superfund Site, Richmond, California
Kohn N.P., and R.K. Kropp. 2002. Year 5 Post-Remediation Biomonitoring of Pesticides and other Contaminants in Marine Waters near the United Heckathorn Superfund Site, Richmond, California. PNNL-13990. Richland, WA: Pacific Northwest National Laboratory. Year 5 Post-Remediation Biomonitoring of Pesticides and other Contaminants in Marine Waters near the United Heckathorn Superfund Site, Richmond, California
2001
Kohn N.P., and R. Kropp. 2001. Year 4 Post-Remediation Biomonitoring of Pesticides and Other Contaminants in Marine Waters Near the United Heckathorn Superfund Site, Richmond, California. PNNL-13632. Richland, WA: Pacific Northwest National Laboratory. Year 4 Post-Remediation Biomonitoring of Pesticides and Other Contaminants in Marine Waters Near the United Heckathorn Superfund Site, Richmond, California
Kohn N.P., and R.K. Kropp. 2001. Year 3 Post-Remediation Biomonitoring of Pesticides and Other Contaminants in Marine Waters Near the United Heckathorn Superfund Site, Richmond, California. PNNL-13286. Richland, WA: Pacific Northwest National Laboratory. Year 3 Post-Remediation Biomonitoring of Pesticides and Other Contaminants in Marine Waters Near the United Heckathorn Superfund Site, Richmond, California
Kohn N.P., and T.J. Gilmore. 2001. Field Investigation to Determine the Extent of Sediment Recontamination at the United Heckathorn Superfund Site, Richmond, California. PNNL-13730. Richland, WA: Pacific Northwest National Laboratory. Field Investigation to Determine the Extent of Sediment Recontamination at the United Heckathorn Superfund Site, Richmond, California
2000
Antrim L.D., and N.P. Kohn. 2000. POST-REMEDIATION BIOMONITORING OF PESTICIDES AND OTHER CONTAMINANTS IN MARINE WATERS AND SEDIMENT NEAR THE UNITED HECKATHORN SUPERFUND SITE, RICHMOND, CALIFORNIA. PNNL-13059-Rev 1. Richland, WA: Pacific Northwest National Laboratory. POST-REMEDIATION BIOMONITORING OF PESTICIDES AND OTHER CONTAMINANTS IN MARINE WATERS AND SEDIMENT NEAR THE UNITED HECKATHORN SUPERFUND SITE, RICHMOND, CALIFORNIA
Antrim L.D., and N.P. Kohn. 2000. Post-Remediation Biomonitoring of Pesticides and Other Contaminants in Marine Waters and Sediment Near the United Heckathorn Superfund Site, Richmond, California. PNNL-13059. Richland, WA: Pacific Northwest National Laboratory. Post-Remediation Biomonitoring of Pesticides and Other Contaminants in Marine Waters and Sediment Near the United Heckathorn Superfund Site, Richmond, California
Antrim L.D., and N.P. Kohn. 2000. Post-Remediation Biomonitoring of Pesticides in Marine Waters Near the United Heckathorn Site, Richmond, California. PNNL-11911-Rev 1. Richland, WA: Pacific Northwest National Laboratory. Post-Remediation Biomonitoring of Pesticides in Marine Waters Near the United Heckathorn Site, Richmond, California
1999
Last G.V., L.M. Bagaasen, T.J. Gilmore, N.P. Kohn, C.D. Johnson, D.C. Lanigan, and T.L. Liikala, et al. 1999. Surface Water-Sediment Feasibility Study Report for the McCormick and Baxter Superfund Site, Stockton, California. PNNL-11931. Richland, WA: Pacific Northwest National Laboratory. Surface Water-Sediment Feasibility Study Report for the McCormick and Baxter Superfund Site, Stockton, California