Kate Hall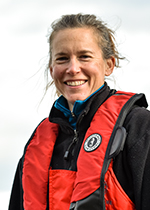 Marine Sciences Laboratory
Pacific Northwest National Laboratory
1529 West Sequim Bay Road
Sequim, Washington 98382
Send Email
Biography
Ms. Kate Hall holds a BS degree in Environmental Science through the Western Washington University Huxley Environmental Studies program. She served her internship at the Battelle Marine Sciences Laboratory and was hired full-time to assist in conducting bioassays in the toxicology laboratory. Early in her career her focus was on stream ecology, water quality, toxicology, risk assessment, physical oceanography, and species and habitat monitoring, she has developed many skills working in the field. Since then she has evolved her capabilities to work in multiple groups within MSL and Richland. Her laboratory duties included instrument calibration, organism receiving and animal care, test initiation, monitoring and termination, and data collection. Her field work duties have included inventory management, sample and data collection, fish tagging surgeries, equipment deployment, maintenance and retrieval.
Ms. Hall is also a member of the MSL dive team and boat operator. She holds certificates in open water diver, advanced diver, rescue diver, first aid/CPR, SCUBA first aid, and diver emergency oxygen administration. She also holds a certificate as a service technician for the Interspiro/Ocean Technology Systems Divator MKII, the mask used by the MSL dive team. Her duties as a dive team member include research support through habitat monitoring, surveying and restoration, equipment deployment, sample and data collection, as well as servicing dive gear. Ms. Hall holds an Operator of Uninspected Passenger Vessel (OUPV, aka 6-pack) captains license.
Ms. Hall is also a cognizant space manager and zone warden for the PNNL building emergency response organization.
Education and Credentials
B.S., Environmental Science, Western Washington University Huxley Environmental Studies, extended campus, Port Angeles, WA, June 2001
A.A., University College Transfer Degree from Skagit Valley College, Mt. Vernon, WA, 1996
PNNL Publications
2013
Bryson A.J., C.M. Woodley, R.K. Karls, K.D. Hall, M.A. Weiland, Z. Deng, and T.J. Carlson, et al. 2013. "Comparison of 180-degree and 90-degree needle rotation to reduce wound size in PIT-injected juvenile Chinook salmon." Fisheries Research 143. PNNL-SA-91825. doi:10.1016/j.fishres.2013.02.011
2007
Vavrinec J., N.P. Kohn, K.D. Hall, and B.A. Romano. 2007. Effects of burial by the disposal of dredged materials from the Columbia River on Pacific razor clams (Siliqua patula). PNNL-16350. Richland, WA: Pacific Northwest National Laboratory. Effects of burial by the disposal of dredged materials from the Columbia River on Pacific razor clams (Siliqua patula)
Vavrinec J., W.H. Pearson, N.P. Kohn, J.R. Skalski, C. Lee, K.D. Hall, and B.A. Romano, et al. 2007. Laboratory Assessment of Potential Impacts to Dungeness Crabs from Disposal of Dredged Material from the Columbia River. PNNL-16482. Richland, WA: Pacific Northwest National Laboratory. Laboratory Assessment of Potential Impacts to Dungeness Crabs from Disposal of Dredged Material from the Columbia River