Mikaela Freeman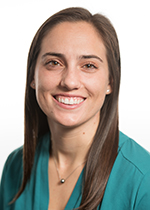 Marine Sciences Laboratory
Pacific Northwest National Laboratory
1529 West Sequim Bay Road
Sequim, Washington 98382
Send Email
Biography
Mikaela Freeman joined Pacific Northwest National Laboratory's Coastal Science Division in Seattle in 2016 after earning her Masters of Marine Affairs degree from the University of Washington's School of Marine and Environmental Affairs. At PNNL, Mikaela is a marine science and policy analyst who focuses on outreach and engagement and environmental impacts of marine renewable energy. Mikaela has supported projects related to marine renewable energy and wind energy environmental effects, water resource management in the Puget Sound, review and synthesis of US marine hydrokinetic regulations, and permitting for growing macroalgea. Mikaela's Masters work focused on Marine Spatial Planning in Washington through assessing potential spatial and temporal conflicts between marine uses.
Research Interests
Environmental and socioeconomic impacts of marine renewable energy
Stakeholder and regulator engagement
Resource management
Marine Spatial Planning
Education and Credentials
M.M.A., Marine and Environmental Policy, University of Washington, 2018
B.S., Natural Sciences - Biology emphasis, University of Puget Sound, 2012. Minor in Environmental Policy and Decision Making
Affiliations and Professional Service
IAP2 Certificates: Foundations in Public Participation (2016), Planning for Effective Public Participation (2016)
Awards and Recognitions
Sydney D. and Barbara F. Campbell Maritime Studies Endowed Fellowship (2014, 2015)
PNNL Publications
2018
Selected Publications
2016
Freeman, M.C., Whiting, L., and Kelly, R.P. 2016. Assessing potential spatial and temporal conflicts in Washington's marine waters. Marine Policy, v 70, pp. 137-144.