Jonathan Strivens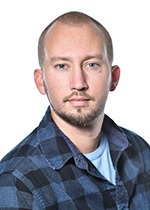 Marine Sciences Laboratory
Pacific Northwest National Laboratory
1529 West Sequim Bay Road
Sequim, Washington 98382
Send Email
Biography
Jonathan joined the Pacific Northwest National Laboratory in 2013, and works as a research scientist for the Marine and Environmental Chemistry Group at the Marine Sciences Laboratory (MSL) in Sequim, Washington. Prior to coming to MSL, Jonathan's research at the University of Washington at Tacoma focused on historical trends of harmful algal blooms. Jonathan's areas of expertise include in trace metals and organics in marine waters, tissues, and sediments. Jonathan is the MSL manager of, Project ENVVEST, a cooperative program among the Puget Sound Naval Shipyard & Intermediate Maintenance Facility, the U.S. Environmental Protection Agency, the Washington State Department of Ecology, and local stakeholders to leverage and extend efforts to help improve environmental quality and assist in meeting water quality goals for Sinclair and Dyes Inlets within Puget Sound. Within Project ENVVEST, Jonathan is developing novel ecotoxicity monitoring protocol using passive samplers. Jonathan is also a collaborator on the Uranium from Seawater project funded by the Department of Energy, which was most recently featured in Reuters Technology. In addition to his research, Jonathan holds qualifications as a Radiation Protection Technician for the USDOE, and works to ensure safe operations at MSL.
Education and Credentials
B.S., Environmental Science, University of Washington Tacoma, 2013
Awards and Recognitions
2017 OTY Award, National Security Directorate, Small Vehicle Standoff Detection Testing: MSL's innovative on-the-water testing provided a controlled, open-water maritime environment for small vessel radiological and nuclear standoff detection testing.
PNNL Publications
2020
Strivens J.E., N. Hayman, G. Rosen, and A.N. Myers-Pigg. 2020. "Toward Validation of Toxicological Interpretation of Diffusive Gradients in Thin Films in Marine Waters Impacted by Copper." Environmental Toxicology and Chemistry 39, no. 4:873-881. PNNL-SA-150328. doi:10.1002/etc.4673
Wiechert A.I., A. Ladshaw, L. Kuo, H. Pan, J.E. Strivens, N.J. Schlafer, and J.R. Wood, et al. 2020. "Uranium recovery from seawater using amidoxime-based braided polymers synthesized from acrylic fibers." Industrial and Engineering Chemistry Research 59, no. 31:13988-13996. PNNL-SA-152394. doi:10.1021/acs.iecr.0c01573
2019
Hayman N., G. Rosen, and J.E. Strivens. 2019. "Evaluating the efficacy of DGT to quantify copper in stormwater at end-of-pipe." Chemosphere 235. PNNL-SA-142996. doi:10.1016/j.chemosphere.2019.07.009
Kuo L., H.B. Pan, J.E. Strivens, N.J. Schlafer, C.J. Janke, J.R. Wood, and C.M. Wai, et al. 2019. "Assessment of Impacts of Dissolved Organic Matter and Dissolved Iron on the Performance of Amidoxime-Based Adsorbents for Seawater Uranium Extraction." Industrial and Engineering Chemistry Research 58, no. 19:8536-8543. PNNL-SA-141051. doi:10.1021/acs.iecr.9b00670
Strivens J.E., J.M. Brandenberger, and R.K. Johnston. 2019. "Data Trend Shifts Induced by Method of Concentration for Trace Metals in Seawater: Automated Online Preconcentration vs Borohydride Reductive Coprecipitation of Nearshore Seawater Samples for Analysis of Ni, Cu, Zn, Cd, and Pb via ICP-MS." Limnology and Oceanography Methods 17, no. 4:266-276. PNNL-SA-140847. doi:10.1002/lom3.10311
Strivens J.E., N. Hayman, R.K. Johnston, and G.H. Rosen. 2019. "Effects of Dissolved Organic Carbon on Copper Toxicity to Embryos of Mytilus galloprovincialis as Measured by Diffusive Gradient in Thin Films." Environmental Toxicology and Chemistry 38, no. 5:1029-1034. PNNL-SA-139169. doi:10.1002/etc.4404
2018
Kuo L., G.A. Gill, C. Tsouris, L. Rao, H. Pan, C.M. Wai, and C.J. Janke, et al. 2018. "Temperature Dependence of Uranium and Vanadium Adsorption on Amidoxime-Based Adsorbents in Natural Seawater." ChemistrySelect 3, no. 2:843-848. PNNL-SA-126070. doi:10.1002/slct.201701895
2017
Kuo L., H.B. Pan, C.M. Wai, M. Flicker Byers, E. Schneider, J.E. Strivens, and C.J. Janke, et al. 2017. "Investigations into the reusability of amidoxime-based polymeric adsorbents for seawater uranium extraction." Industrial and Engineering Chemistry Research 56, no. 40:11603-11611. PNNL-SA-127685. doi:10.1021/acs.iecr.7b02893
Ladshaw A., L. Kuo, J.E. Strivens, J.R. Wood, N.J. Schlafer, S. Yiacoumi, and C. Tsouris, et al. 2017. "Influence of Current Velocity on Uranium Adsorption from Seawater Using an Amidoxime-based Polymer Fiber Adsorbent." Industrial and Engineering Chemistry Research 56, no. 8:2205-2211. PNNL-SA-124030. doi:10.1021/acs.iecr.6b04539
2016
Gill G.A., L. Kuo, C.J. Janke, J. Park, R.T. Jeters, G.T. Bonheyo, and H. Pan, et al. 2016. "The Uranium from Seawater Program at the Pacific Northwest National Laboratory: Overview of Marine Testing, Adsorbent Characterization, Adsorbent Durability, Adsorbent Toxicity, and Deployment Studies." Industrial and Engineering Chemistry Research 55, no. 15:4264-4277. PNNL-SA-113457. doi:10.1021/acs.iecr.5b03649
Gill G.A., L. Kuo, J.E. Strivens, J.R. Wood, N.J. Schlafer, and E. D'Alessandro. 2016. Uranium from Seawater Marine Testing Program at the University of Miami's Broad Key Island Research Station. PNNL-25734. Richland, WA: Pacific Northwest National Laboratory. Uranium from Seawater Marine Testing Program at the University of Miami's Broad Key Island Research Station
Gill G.A., L. Kuo, J.E. Strivens, J.R. Wood, N.J. Schlafer, C. Tsouris, and C.J. Janke, et al. 2016. Summary of Adsorption Capacity and Adsorption Kinetics of Uranium and Other Elements on Amidoxime-based Adsorbents from Time Series Marine Testing at the Pacific Northwest National Laboratory. PNNL-25899. Richland, WA: Pacific Northwest National Laboratory. Summary of Adsorption Capacity and Adsorption Kinetics of Uranium and Other Elements on Amidoxime-based Adsorbents from Time Series Marine Testing at the Pacific Northwest National Laboratory
Keillor M.E., C.E. Aalseth, L.M. Arrigo, J.M. Brandenberger, J.M. Cloutier, G.C. Eiden, and J.E. Fast, et al. 2016. "Measurement Background and the Sediment Age-Dating Reach of 32Si." Journal of Radioanalytical and Nuclear Chemistry 307, no. 3:2313-2319. PNNL-SA-100544. doi:10.1007/s10967-015-4592-5
Kuo L., C.J. Janke, J.R. Wood, J.E. Strivens, S. Das, Y. Oyola, and R.T. Mayes, et al. 2016. "Characterization and Testing of Amidoxime-Based Adsorbent Materials to Extract Uranium from Natural Seawater." Industrial and Engineering Chemistry Research 55, no. 15:4285-4293. PNNL-SA-120241. doi:10.1021/acs.iecr.5b03267
Kuo L., G.A. Gill, J.E. Strivens, J.R. Wood, N.J. Schlafer, C.M. Wai, and H.B. Pan. 2016. Investigations Into the Reusability of Amidoxime-Based Polymeric Uranium Adsorbents. PNNL-25874. Richland, WA: Pacific Northwest National Laboratory. Investigations Into the Reusability of Amidoxime-Based Polymeric Uranium Adsorbents
Pan H., L. Kuo, C.M. Wai, N. Miyamoto, R. Joshi, J.R. Wood, and J.E. Strivens, et al. 2016. "Elution of Uranium and Transition Metals from Amidoxime- Based Polymer Adsorbents for Sequestering Uranium from Seawater." Industrial and Engineering Chemistry Research 55, no. 15:4313-4320. PNNL-SA-113041. doi:10.1021/acs.iecr.5b03307
Park J., G.A. Gill, J.E. Strivens, L. Kuo, R.T. Jeters, A. Avila, and J.R. Wood, et al. 2016. "Effect of biofouling on the performance of amidoxime-based polymeric uranium adsorbents." Industrial and Engineering Chemistry Research 55, no. 15:4328-4338. PNNL-SA-113339. doi:10.1021/acs.iecr.5b03457
Park J., R.T. Jeters, L. Kuo, J.E. Strivens, G.A. Gill, N.J. Schlafer, and G.T. Bonheyo. 2016. "Potential impact of seawater uranium extraction on marine life." Industrial and Engineering Chemistry Research 55, no. 15:4278-4284. PNNL-SA-113338. doi:10.1021/acs.iecr.5b03430
Wood J.R., G.A. Gill, L. Kuo, J.E. Strivens, and K. Choe. 2016. "Comparison of Analytical Methods for the Determination of Uranium in Seawater Using Inductively Coupled Plasma Mass Spectrometry." Industrial and Engineering Chemistry Research 55, no. 15:4344-4350. PNNL-SA-114038. doi:10.1021/acs.iecr.5b03680
2015
Gill G.A., L. Kuo, J.E. Strivens, J. Park, G.T. Bonheyo, R.T. Jeters, and N.J. Schlafer, et al. 2015. Determination of Adsorption Capacity and Kinetics of Amidoxime-Based Uranium Adsorbent Braided Material in Unfiltered Seawater Using a Flume Exposure System. PNNL-24543. Richland, WA: Pacific Northwest National Laboratory. Determination of Adsorption Capacity and Kinetics of Amidoxime-Based Uranium Adsorbent Braided Material in Unfiltered Seawater Using a Flume Exposure System
Gill G.A., L. Kuo, J.E. Strivens, J.R. Wood, C. Wai, and H. Pan. 2015. Investigations into Alternative Desorption Agents for Amidoxime-Based Polymeric Uranium Adsorbents. PNNL-24378. Richland, WA: Pacific Northwest National Laboratory. Investigations into Alternative Desorption Agents for Amidoxime-Based Polymeric Uranium Adsorbents
Gill G.A., L. Kuo, J.E. Strivens, J.R. Wood, N.J. Schlafer, C. Tsouris, and A. Ladshaw, et al. 2015. Investigations into the Effect of Current Velocity on Amidoxime-Based Polymeric Uranium Adsorbent Performance. PNNL-24996. Richland, WA: Pacific Northwest National Laboratory. Investigations into the Effect of Current Velocity on Amidoxime-Based Polymeric Uranium Adsorbent Performance
Pan H., L. Kuo, J.R. Wood, J.E. Strivens, G.A. Gill, C. Janke, and C.M. Wai. 2015. "Towards Understanding KOH Conditioning of Amidoxime-based Polymer Adsorbents for Sequestering Uranium from Seawater." RSC Advances 5, no. 122:100715-100721. PNNL-SA-110707. doi:10.1039/c5ra14095a