Li-Jung Kuo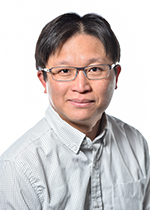 Marine Sciences Laboratory
Pacific Northwest National Laboratory
1529 West Sequim Bay Road
Sequim, Washington 98382
Send Email
Biography
Dr. Li-Jung Kuo is a research scientist at the Marine Sciences Laboratory of Pacific Northwest National Laboratory. Li-Jung's research interests are generally in three broad areas: 1) characterization of impacts of natural and human-induced environmental perturbation on ecosystems; 2) distribution and transport of organic pollutants in the marine environment; and 3) exploration of marine resources for fuel sources. Major research efforts are on the fate of organic carbon in the environment; organic contaminants (PAHs, PCBs, PBDEs) mass balance in watersheds; human exposure to natural and man-made brominated organic pollutants (e.g. brominated flame retardants); and extraction of valuable elements from seawater.
Research Interests
Anthropogenic and environmental perturbations on carbon dynamics
Fate and transport of pyrogenic carbon in the environment
Biochar for carbon sequestration and contaminant immobilization
Environmental distribution and mitigation of persistent organic pollutants
Oil spill mitigation
Human exposure to halogenated flame retardants
Harvest of valuable elements from seawater
Education and Credentials
Ph.D., 2009 Geochemistry, Texas A&M University, College Station, TX.
M.S., 1999 Marine Chemistry, National Sun Yat-sen University, Taiwan.
B.S., 1996 Marine Environment and Engineering, National Sun Yat-sen University, Taiwan.
Affiliations and Professional Service
American Geophysical Union (AGU)
American Chemical Society (ACS)
Awards and Recognitions
2011, 2012, 2015, 2016 PNNL Outstanding Performance Award
2008 TAMU College of Geoscience Halbouty Fellowship
2005, 2006, 2008 TAMU College of Geoscience Berg/Parker Scholarship
2004, 2007 TAMU College of Geoscience Conoco-Phillips Fellowship
2005 TAMU College of Geoscience ChevronTexaco Fellowship
PNNL Publications
2019
Kuo L., S.E. Cade, V.I. Cullinan, and I.R. Schultz. 2019. "Polybrominated diphenyl ethers (PBDEs) in plasma from E-waste recyclers, outdoor and indoor workers in the Puget Sound, WA region." Chemosphere 219. PNNL-SA-137096. doi:10.1016/j.chemosphere.2018.12.006
2018
Cade S.E., L. Kuo, and I.R. Schultz. 2018. "Polybrominated diphenyl ethers and their hydroxylated and methoxylated derivatives in seafood obtained from Puget Sound, WA." Science of the Total Environment 630. PNNL-SA-132941. doi:10.1016/j.scitotenv.2018.02.301
Kuo L., G.A. Gill, C. Tsouris, L. Rao, H. Pan, C.M. Wai, and C.J. Janke, et al. 2018. "Temperature Dependence of Uranium and Vanadium Adsorption on Amidoxime-Based Adsorbents in Natural Seawater." ChemistrySelect 3, no. 2:843-848. PNNL-SA-126070. doi:10.1002/slct.201701895
2017
Kuo L., H.B. Pan, C.M. Wai, M. Flicker Byers, E. Schneider, J.E. Strivens, and C.J. Janke, et al. 2017. "Investigations into the reusability of amidoxime-based polymeric adsorbents for seawater uranium extraction." Industrial and Engineering Chemistry Research 56, no. 40:11603-11611. PNNL-SA-127685. doi:10.1021/acs.iecr.7b02893
Ladshaw A., L. Kuo, J.E. Strivens, J.R. Wood, N.J. Schlafer, S. Yiacoumi, and C. Tsouris, et al. 2017. "Influence of Current Velocity on Uranium Adsorption from Seawater Using an Amidoxime-based Polymer Fiber Adsorbent." Industrial and Engineering Chemistry Research 56, no. 8:2205-2211. PNNL-SA-124030. doi:10.1021/acs.iecr.6b04539
Li C., S. Lee, S.E. Cade, L. Kuo, I.R. Schultz, D.K. Bhatt, and B. Prasad, et al. 2017. "Novel Interactions between Gut Microbiome and Host Drug-processing Genes Modify the Hepatic Metabolism of the Environmental Chemicals PBDEs." Drug Metabolism and Disposition 45, no. 11:1197-1214. PNNL-SA-129301. doi:10.1124/dmd.117.077024
Neti V.S., S. Das, S. Brown, C.J. Janke, L. Kuo, G.A. Gill, and S. Dai, et al. 2017. "Efficient Functionalization of Polyethylene Fibers for the Uranium Extraction from Seawater through Atom Transfer Radical Polymerization." Industrial and Engineering Chemistry Research 56, no. 38:10826-10832. PNNL-SA-128982. doi:10.1021/acs.iecr.7b00482
Pan H.B., C.M. Wai, L. Kuo, G.A. Gill, G. Tian, L. Rao, and S. Das, et al. 2017. "Bicarbonate Elution of Uranium from Amidoxime-based Polymer Adsorbents for Sequestering Uranium from Seawater." ChemistrySelect 2, no. 13:3769-3774. PNNL-SA-118924. doi:10.1002/slct.201700177
Tolic N., Y. Liu, A.V. Liyu, Y. Shen, M.M. Tfaily, E.B. Kujawinski, and K. Longnecker, et al. 2017. "Formularity: Software for Automated Formula Assignment of Natural and Other Organic Matter from Ultra-High Resolution Mass Spectra." Analytical Chemistry 89, no. 23:12659-12665. PNNL-SA-128094. doi:10.1021/acs.analchem.7b03318
2016
Abney C.W., S. Das, R.T. Mayes, L. Kuo, J.R. Wood, G.A. Gill, and M. Piechowicz, et al. 2016. "A report on emergent uranyl binding phenomena by an amidoxime phosphonic acid co-polymer." Physical Chemistry Chemical Physics. PCCP 18, no. 34:23462-23468. PNNL-SA-120240. doi:10.1039/c6cp04772f
Brown S., Y. Yue, L. Kuo, N. Mehio, M. Li, G.A. Gill, and C. Tsouris, et al. 2016. "Uranium Adsorbent Fibers Prepared by Atom-Transfer Radical Polymerization (ATRP) from Poly(vinyl chloride)-co-chlorinated Poly(vinyl chloride) (PVC-co-CPVC) Fiber." Industrial and Engineering Chemistry Research 55, no. 15:4139-4148. PNNL-SA-120242. doi:10.1021/acs.iecr.5b03355
Das S., C. Tsouris, C. Zhang, J. Kim, S. Brown, Y. Oyola, and C. Janke, et al. 2016. "Enhancing Uranium Uptake by Amidoxime Adsorbent in Seawater: An investigation for optimum alkaline conditioning parameters." Industrial and Engineering Chemistry Research 55, no. 15:4294-4302. PNNL-SA-109934. doi:10.1021/acs.iecr.5b02735
Das S., S.S. Brown, R.T. Mayes, C.J. Janke, C. Tsouris, L. Kuo, and G.A. Gill, et al. 2016. "Novel Poly(imide dioxime) Sorbents: Development and testing for enhanced extraction of uranium from natural seawater." Chemical Engineering Journal 298. PNNL-SA-118384. doi:10.1016/j.cej.2016.04.013
Das S., W. Liao, M. Flicker Byers, C. Tsouris, C.J. Janke, R.T. Mayes, and E. Schneider, et al. 2016. "Alternative Alkaline Conditioning of Amidoxime Based Adsorbent for Uranium Extraction from Seawater." Industrial and Engineering Chemistry Research 55, no. 15:4303-4312. PNNL-SA-120372. doi:10.1021/acs.iecr.5b03210
Das S., Y. Oyola, R.T. Mayes, C.J. Janke, L. Kuo, G.A. Gill, and J.R. Wood, et al. 2016. "Extracting Uranium from Seawater: Promising AF Series Adsorbents." Industrial and Engineering Chemistry Research 55, no. 15:4110-4117. PNNL-SA-120398. doi:10.1021/acs.iecr.5b03136
Das S., Y. Oyola, R.T. Mayes, C.J. Janke, L. Kuo, G.A. Gill, and J.R. Wood, et al. 2016. "Extracting Uranium from Seawater: Promising AI Series Adsorbents." Industrial and Engineering Chemistry Research 55, no. 15:4103-4109. PNNL-SA-120256. doi:10.1021/acs.iecr.5b03135
Gill G.A., L. Kuo, C.J. Janke, J. Park, R.T. Jeters, G.T. Bonheyo, and H. Pan, et al. 2016. "The Uranium from Seawater Program at the Pacific Northwest National Laboratory: Overview of Marine Testing, Adsorbent Characterization, Adsorbent Durability, Adsorbent Toxicity, and Deployment Studies." Industrial and Engineering Chemistry Research 55, no. 15:4264-4277. PNNL-SA-113457. doi:10.1021/acs.iecr.5b03649
Gill G.A., L. Kuo, J.E. Strivens, J.R. Wood, N.J. Schlafer, and E. D'Alessandro. 2016. Uranium from Seawater Marine Testing Program at the University of Miami's Broad Key Island Research Station. PNNL-25734. Richland, WA: Pacific Northwest National Laboratory. Uranium from Seawater Marine Testing Program at the University of Miami's Broad Key Island Research Station
Gill G.A., L. Kuo, J.E. Strivens, J.R. Wood, N.J. Schlafer, C. Tsouris, and C.J. Janke, et al. 2016. Summary of Adsorption Capacity and Adsorption Kinetics of Uranium and Other Elements on Amidoxime-based Adsorbents from Time Series Marine Testing at the Pacific Northwest National Laboratory. PNNL-25899. Richland, WA: Pacific Northwest National Laboratory. Summary of Adsorption Capacity and Adsorption Kinetics of Uranium and Other Elements on Amidoxime-based Adsorbents from Time Series Marine Testing at the Pacific Northwest National Laboratory
Harvey O.R., A.N. Myers-Pigg, L. Kuo, B. Singh, K.A. Kuehn, and P. Louchouarn. 2016. "Discrimination in degradability of Soil Pyrogenic Organic Matter follows a Return-On-Energy-Investment Principle." Environmental Science & Technology 50, no. 16:8578-8585. PNNL-SA-119275. doi:10.1021/acs.est.6b01010
Kuo L., C.J. Janke, J.R. Wood, J.E. Strivens, S. Das, Y. Oyola, and R.T. Mayes, et al. 2016. "Characterization and Testing of Amidoxime-Based Adsorbent Materials to Extract Uranium from Natural Seawater." Industrial and Engineering Chemistry Research 55, no. 15:4285-4293. PNNL-SA-120241. doi:10.1021/acs.iecr.5b03267
Kuo L., G.A. Gill, J.E. Strivens, J.R. Wood, N.J. Schlafer, C.M. Wai, and H.B. Pan. 2016. Investigations Into the Reusability of Amidoxime-Based Polymeric Uranium Adsorbents. PNNL-25874. Richland, WA: Pacific Northwest National Laboratory. Investigations Into the Reusability of Amidoxime-Based Polymeric Uranium Adsorbents
Pan H., L. Kuo, C.M. Wai, N. Miyamoto, R. Joshi, J.R. Wood, and J.E. Strivens, et al. 2016. "Elution of Uranium and Transition Metals from Amidoxime- Based Polymer Adsorbents for Sequestering Uranium from Seawater." Industrial and Engineering Chemistry Research 55, no. 15:4313-4320. PNNL-SA-113041. doi:10.1021/acs.iecr.5b03307
Park J., G.A. Gill, J.E. Strivens, L. Kuo, R.T. Jeters, A. Avila, and J.R. Wood, et al. 2016. "Effect of biofouling on the performance of amidoxime-based polymeric uranium adsorbents." Industrial and Engineering Chemistry Research 55, no. 15:4328-4338. PNNL-SA-113339. doi:10.1021/acs.iecr.5b03457
Park J., R.T. Jeters, L. Kuo, J.E. Strivens, G.A. Gill, N.J. Schlafer, and G.T. Bonheyo. 2016. "Potential impact of seawater uranium extraction on marine life." Industrial and Engineering Chemistry Research 55, no. 15:4278-4284. PNNL-SA-113338. doi:10.1021/acs.iecr.5b03430
Wood J.R., G.A. Gill, L. Kuo, J.E. Strivens, and K. Choe. 2016. "Comparison of Analytical Methods for the Determination of Uranium in Seawater Using Inductively Coupled Plasma Mass Spectrometry." Industrial and Engineering Chemistry Research 55, no. 15:4344-4350. PNNL-SA-114038. doi:10.1021/acs.iecr.5b03680
2015
Gill G.A., L. Kuo, J.E. Strivens, J. Park, G.T. Bonheyo, R.T. Jeters, and N.J. Schlafer, et al. 2015. Determination of Adsorption Capacity and Kinetics of Amidoxime-Based Uranium Adsorbent Braided Material in Unfiltered Seawater Using a Flume Exposure System. PNNL-24543. Richland, WA: Pacific Northwest National Laboratory. Determination of Adsorption Capacity and Kinetics of Amidoxime-Based Uranium Adsorbent Braided Material in Unfiltered Seawater Using a Flume Exposure System
Gill G.A., L. Kuo, J.E. Strivens, J.R. Wood, C. Wai, and H. Pan. 2015. Investigations into Alternative Desorption Agents for Amidoxime-Based Polymeric Uranium Adsorbents. PNNL-24378. Richland, WA: Pacific Northwest National Laboratory. Investigations into Alternative Desorption Agents for Amidoxime-Based Polymeric Uranium Adsorbents
Gill G.A., L. Kuo, J.E. Strivens, J.R. Wood, N.J. Schlafer, C. Tsouris, and A. Ladshaw, et al. 2015. Investigations into the Effect of Current Velocity on Amidoxime-Based Polymeric Uranium Adsorbent Performance. PNNL-24996. Richland, WA: Pacific Northwest National Laboratory. Investigations into the Effect of Current Velocity on Amidoxime-Based Polymeric Uranium Adsorbent Performance
Pan H., L. Kuo, J.R. Wood, J.E. Strivens, G.A. Gill, C. Janke, and C.M. Wai. 2015. "Towards Understanding KOH Conditioning of Amidoxime-based Polymer Adsorbents for Sequestering Uranium from Seawater." RSC Advances 5, no. 122:100715-100721. PNNL-SA-110707. doi:10.1039/c5ra14095a
Park J., R.T. Jeters, G.A. Gill, L. Kuo, and G.T. Bonheyo. 2015. Toxicity of Uranium Adsorbent Materials using the Microtox Toxicity Test. PNNL-23832. Richland, WA: Pacific Northwest National Laboratory. Toxicity of Uranium Adsorbent Materials using the Microtox Toxicity Test
Yue Y., R. Mayes, G.A. Gill, L. Kuo, J.R. Wood, A. Binder, and S. Brown, et al. 2015. "Macroporous Monoliths for Trace Metal Extraction from Seawater." RSC Advances 5, no. 62:50005-50010. PNNL-SA-110746. doi:10.1039/c5ra02131f
2014
Gill G.A., L. Kuo, J.R. Wood, and C. Janke. 2014. Complete Laboratory Evaluation and Issue a Report on the Impact of Temperature on Uranium Adsorption. PNNL-23634. Richland, WA: Pacific Northwest National Laboratory.
Kim J., C. Tsouris, Y. Oyola, C. Janke, R.T. Mayes, S. Dai, and S. Dai, et al. 2014. "Uptake of Uranium from Seawater by Amidoxime-Based Polymeric Adsorbent: Field Experiments, Modeling, and Updated Economic Assessment." Industrial and Engineering Chemistry Research 53, no. 14:6076-6083. PNNL-SA-104179. doi:10.1021/ie4039828
Kuo L., C. Lee, P. Louchouarn, C. Huh, J.T. Liu, J. Chen, and K. Lee. 2014. "A centennial record of anthropogenic impacts and extreme weather events in southwestern Taiwan: Evidence from sedimentary molecular markers in coastal margin." Marine Pollution Bulletin 86, no. 1-2:244-253. PNNL-SA-103981. doi:10.1016/j.marpolbul.2014.07.010
Saito T., S. Brown, S. Chatterjee, J. Kim, C. Tsouris, R. Mayes, and L. Kuo, et al. 2014. "Uranium Recovery from Seawater: Development of Fiber Adsorbents Prepared via Atom-Transfer Radical Polymerization." Journal of Materials Chemistry A 2, no. 35:14674-14681. PNNL-SA-104178. doi:10.1039/C4TA03276D
2013
Norwood M.J., P. Louchouarn, L. Kuo, and O. Harvey. 2013. "Characterization and biodegradation of water-soluble biomarkers and organic carbon extracted from low temperature chars." Organic Geochemistry 56. PNNL-SA-95782. doi:10.1016/j.orggeochem.2012.12.008
2012
Brandenberger J.M., L. Kuo, C.R. Suslick, and R.K. Johnston. 2012. Ambient Monitoring for Sinclair and Dyes Inlets, Puget Sound, Washington: Chemical Analyses for 2012 Regional Mussel Watch. PNNL-21862. Richland, WA: Pacific Northwest National Laboratory. Ambient Monitoring for Sinclair and Dyes Inlets, Puget Sound, Washington: Chemical Analyses for 2012 Regional Mussel Watch
Harvey O.R., B. Herbert, L. Kuo, and P. Louchouarn. 2012. "Generalized Two-Dimensional Perturbation Correlation Infrared Spectroscopy reveals Mechanisms for the Development of Surface Charge and Recalcitrance in Plant-derived Biochars." Environmental Science & Technology 46, no. 19:10641-10650. PNNL-SA-90771. doi:10.1021/es302971d
Harvey O.R., L. Kuo, A.R. Zimmerman, P. Louchouarn, J.E. Amonette, and B. Herbert. 2012. "An Index-Based Approach to Assessing Recalcitrance and Soil Carbon Sequestration Potential of Engineered Black Carbons (Biochars)." Environmental Science & Technology 46, no. 3:1415-1421. PNNL-SA-85480. doi:10.1021/es2040398
Huesemann M.H., L. Kuo, L.A. Urquhart, G.A. Gill, and G. Roesijadi. 2012. "Acetone-butanol Fermentation of Marine Macroalgae." Bioresource Technology 108. PNNL-SA-83984. doi:10.1016/j.biortech.2011.12.148
Louchouarn P., L. Kuo, J.M. Brandenberger, F. Marcantonio, C.R. Garland, G.A. Gill, and V.I. Cullinan. 2012. "Pyrogenic inputs of anthropogenic Pb and Hg to sediments of the Hood Canal, Washington, in the 20th century: Source evidence from stable Pb isotopes and PAH signatures." Environmental Science & Technology 46, no. 11:5772-5781. PNWD-SA-9844. doi:10.1021/es300269t
2011
Harvey O.R., B. Herbert, R.D. Rhue, and L. Kuo. 2011. "Metal Interactions at the Biochar-Water Interface: Energetics and Structure-Sorption Relationships Elucidated by Flow Adsorption Microcalorimetry." Environmental Science & Technology 45, no. 13:5550-5556. PNNL-SA-80244. doi:10.1021/es104401h
Kuo L., P. Louchouarn, and B. Herbert. 2011. "Influence of Combustion Conditions on Yields of Solvent-Extractable Anhydrosugars and Lignin Phenols in Chars: Implications for Characterizations of Biomass Combustion Residues." Chemosphere 85, no. 5:797-805. PNNL-SA-80245. doi:10.1016/j.chemosphere.2011.06.074
Kuo L., P. Louchouarn, B. Herbert, J.M. Brandenberger, T.L. Wade, and E.A. Crecelius. 2011. "Combustion-derived substances in deep basins of Puget Sound: Historical inputs from fossil fuel and biomass combustion." Environmental Pollution 159, no. 4:983-990. PNWD-SA-9259. doi:10.1016/j.envpol.2010.12.012
2010
Brandenberger J.M., L. Kuo, C.R. Suslick, and R.K. Johnston. 2010. Ambient Monitoring for Sinclair and Dyes Inlets, Puget Sound, Washington: Chemical Analyses for 2010 Regional Mussel Watch (AMB02). PNNL-19845. Richland, WA: Pacific Northwest National Laboratory. Ambient Monitoring for Sinclair and Dyes Inlets, Puget Sound, Washington: Chemical Analyses for 2010 Regional Mussel Watch (AMB02)
Brandenberger J.M., P. Louchouarn, L. Kuo, E.A. Crecelius, V.I. Cullinan, G.A. Gill, and C.R. Garland, et al. 2010. Control of Toxic Chemicals in Puget Sound, Phase 3: Study of Atmospheric Deposition of Air Toxics to the Surface of Puget Sound. PNNL-19533. Richland, WA: Pacific Northwest National Laboratory. Control of Toxic Chemicals in Puget Sound, Phase 3: Study of Atmospheric Deposition of Air Toxics to the Surface of Puget Sound